Donatus Buongiorno had one child, a son who was born on March 31, 1901, in New York City, Biagio Buongiorno. He was named for Donatus' father. Biagio went "back" to Italy (actually, for him, it was his first trip there) with his father in November of 1919. He died in Italy in January of 1921 at age 20, cause of death unknown, but with one more detail of his life revealed on the Italian death certificate: occupation – musician.
Last week, an American man traveling in Italy, a cemetery historian, saw this monument in a Naples cemetery, googled the dead guy's name, found me through donatusbuongiorno.com, and sent me this photo. LOOK at this monument that was ordered by Biagio's artist father! It made me bawl.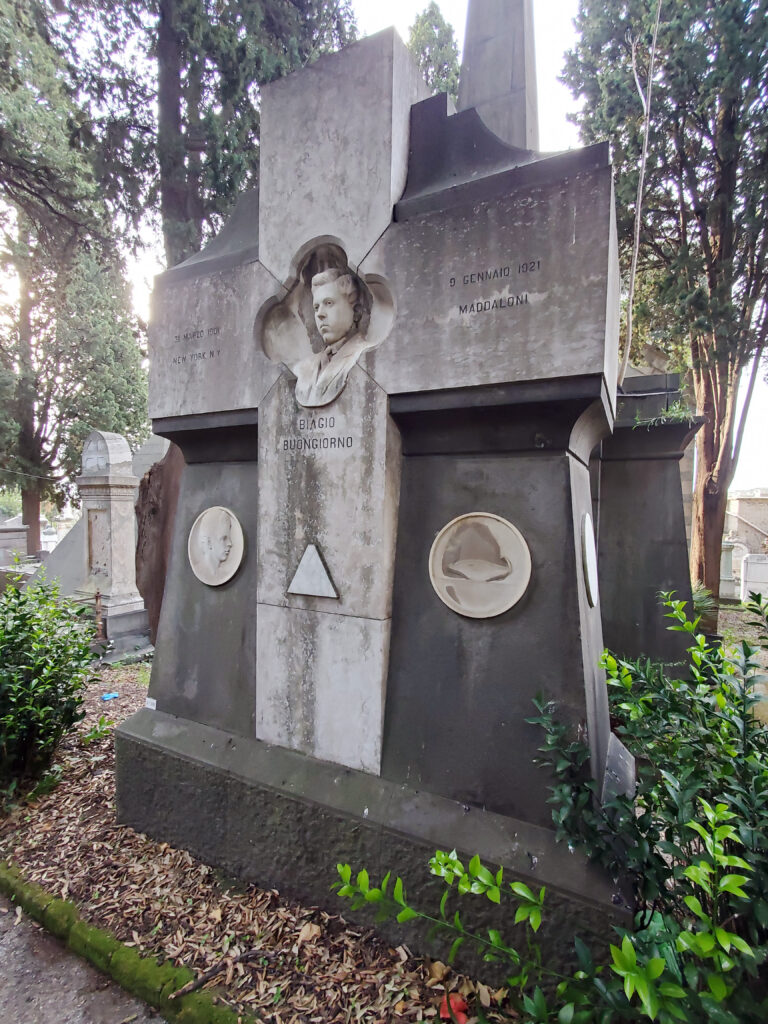 Donatus was a painter, not also a sculptor, too, that I know of, so I don't think he made the image, but…did he "direct" the carving of that young man's face? Is it an accurate likeness? It's hard to tell, as the only photo I've found of Biagio (so far) is this 1919 passport shot.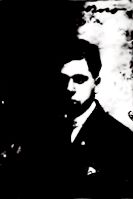 And this find makes me wonder about two other graves:
1. Donatus's own. Did he buy a plot and pre-order a monument before he died in Napoli in 1935? Is he buried near his son?
2. And what about his wife — Teresina La Gatta Buongiorno, who died in Boonton, New Jersey, in October 1919? I have not yet been able to find a grave for her in New Jersey. Should I be looking for a monument of this scale? Or, as my sister Loraine posited: is it possible he and his son took her body back to Italy with them in November 1919 and buried her in Italy? Maybe in this cemetery? Do any of my readers know if it was possible in late 1919 to ship a dead body that far, a month after a death?
My new cemetery historian buddy drew me a map, marked where this grave is located in the cemetery, and shared tips on getting there and getting around, as the cemetery is no better run than any other Italian institutions I have dealt with, apparently, and you're pretty much on your own. It's Cimiterio Poggioreale; it dates from the early 1800s and is one of the largest cemeteries in Europe.
Next trip to Italy, family members: We're going to this cemetery!