on Donatus Buongiorno's easel paintings
Many of Buongiorno's paintings are found in their original frames. Most are medium-quality, wood and "compo" (composition) frames in 19th-century-style gold with decorative cartouches.
Below is an assortment of paintings found in frames which are believed to be original to the paintings.
Buongiorno had a friend, who may have been a cousin—Pasquale Sannino—who was an expert cabinet maker (according to my grandfather, who wrote about Sannino in his 1970 memoir.) Sannino, also Italian-born, emigrated to the U.S. in 1893, one year after Buongiorno. He lived with Buongiorno's family as a boarder for several decades and worked in furniture factories in New York. As a contribution to the family business, Sannino may have moonlighted making frames (and stretchers) for Buongiorno's inventory.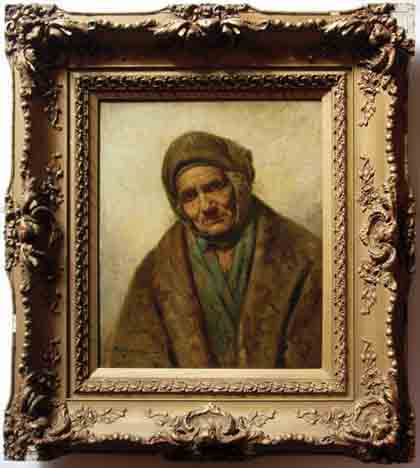 Large frame shows typical damage of 100-year old compo frames: missing corners, broken edges.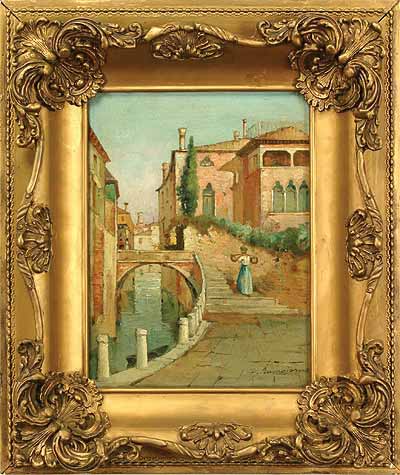 Highly detailed, seemingly high-end frame's top and bottom cartouches are surprisingly off center. Sloppy workmanship, or just an inexpensive frame? The frame below, which looks like it came from the same production batch, is slightly more accurate but its side pieces are not symmetrical.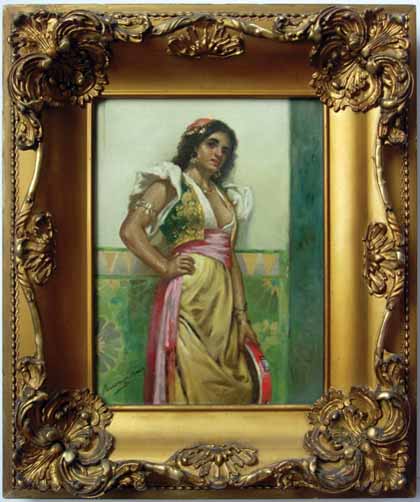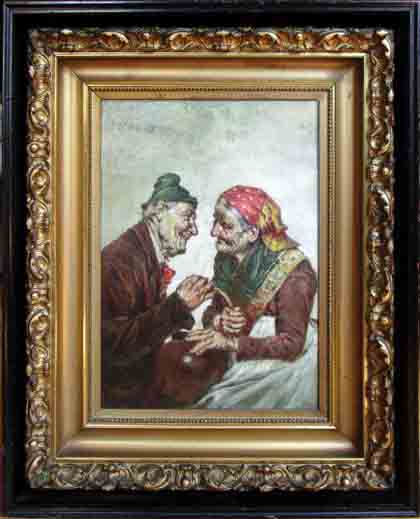 Substantial, gold-leafed, compo frame sits inside 4-inch-deep shadow box with reveal (grooves) to hold a glass cover.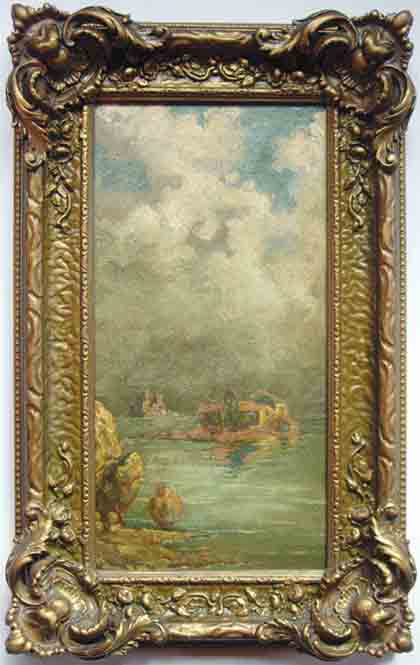 Very deep (4 inches), heavy frame on small (18 x 10 inches) painting.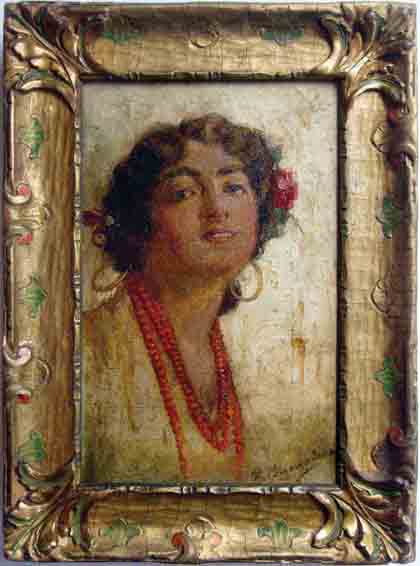 Gold-painted frame with traditional compo corners has hand-painted red and green accents as well. I believe this frame was constructed by Sannino and painted by Buongiorno. They were known to collaborate on hand-painted wooden items, having given a jointly made
decorative box
to a family member as a Christmas gift in 1916.
Unlike other period frames I have acquired with paintings, this frame is made of a particularly inexpensive wood—pine. It even has knots in it (visible from the back.) It's definitely not one of Sannino's better efforts if it's his. It was also missing large chunks of compo when I acquired it, including several of the red and green cartouches. But its red and green accents matched the red and green in the painting, and it had a certain charm….
My conservator, Olga Nikolic-Litwin, who can retouch missing flecks of paint with the tiniest 3-hair brush, also knows paint on wood, as she's a specialist in conserving Orthodox icons. Being a good sport, she agreed to patch up this frame.
We agreed that given the frame's hand-made, "rustic" qualities, some liberty could be taken in its "conservation." Laughingly, I played along as the "brave client" and approved her unorthodox suggestion to rebuild missing cartouches with a most modern material—joint compound—which she "sculpted" and "distress painted" to match the others.
Can you tell which cartouches are hers? Click here to see the "before" picture.