of Donatus Buongiorno's easel paintings
Most of Buongiorno's paintings are found on their original stretchers, having never been removed or relined. The stretchers are both commercially made and hand-made. I suspect that the hand-made stretchers are older, which helps to date those paintings.
Buongiorno had a friend (who may have been a cousin), Pasquale Sannino, who was an expert cabinet maker (according to my grandfather, who knew Sannino from life, and mentioned him in his 1970 memoir.) Sannino, also Italian-born, emigrated to the U.S. in 1893, one year after Buongiorno. He lived with Buongiorno's family as a boarder for several decades and worked in furniture factories in New York. As a contribution to the family business, Sannino may have moonlighted making stretchers (and frames) for Buongiorno's inventory.
Below are some examples of stretchers.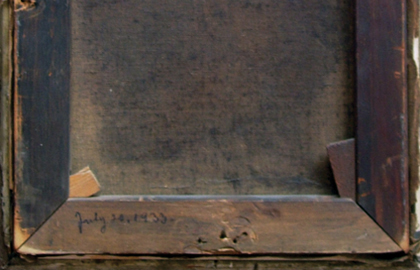 Hand-made stretcher: Probably indicates painting is older than paintings which are on commercially produced stretchers.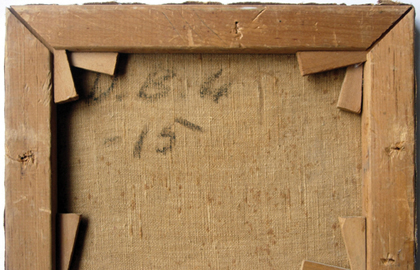 These stretchers look hand-made, perhaps by Pasquale Sannino.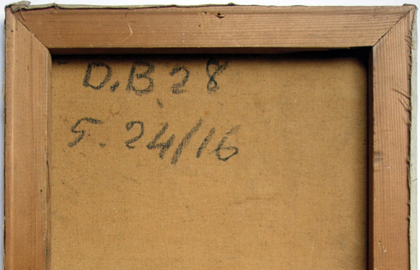 These stretchers are commercially manufactured, suggesting this painting may be newer than the ones on hand-made stretchers. The note "5-24/16" may be a date: May 24, 1916.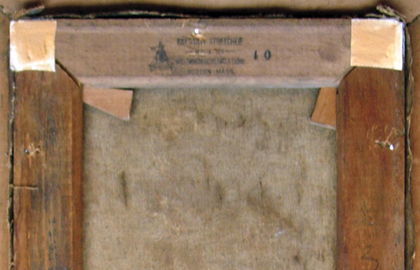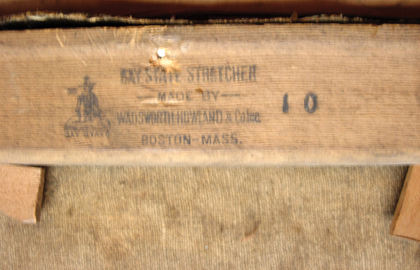 Detail of commercially produced stretcher which says "Bay State Stretcher made by Wadsworth Howland & Co. Inc. Boston Mass. 10" (for 10 inches.) Founded in 1864, Wadsworth Howland & Co. was an importer and dealer in artists' supplies and drafting materials, per company catalogs.
These stretchers can be used to date Buongiorno's painting by comparing it to dated paintings by other artists. A 1915 Darius Cobb painting, a 1923 N.C. Wyeth painting, and a painting by C. Myron Clark, who died in 1925, place it between 1915 and the early 1920s.
Buongiorno first travelled to Boston, that I know of, inadvertently in 1903 when when a ship on which he was returning to the U.S. from Italy was diverted from New York due to a furious gale in the New York harbor. (Read about it in the New York Times.) Later, Buongiorno painted church murals in Boston from 1911–1917. He could have purchased art supplies in Boston at any of these times.
I date the painting that is on these stretchers (House on the Rocks) to 1915–1917, based on those two years being the only years of overlap between the paintings dated above and Buongiorno's known trips to Boston.
Do you own a Donatus Buongiorno painting that has unique stretchers?
Please tell me about it!