E-mail from cousin Keil Troisi, with selfie, on the Grand Canal, September 2017:
George and I are in Venice unexpectedly. Any relatives' work we should see?
Silly him, thinking he was making a funny joke and not realizing I would have an assignment for him. (Mwahahahaha.)
My reply:
Yes! I have an errand for you. There's a Donatus Buongiorno painting of a small plaza that's behind one of the houses on the Grand Canal near the Peggy Guggenheim Collection. It's easy to find. Please go there and shoot some photos for me.
Being me, I then over-briefed him with screen grabs of Google Earth maps and satellite shots with arrows all over them and stuff circled. Plus I sent a photo of the painting.
Buongiorno painting:
Result: Keil's photo.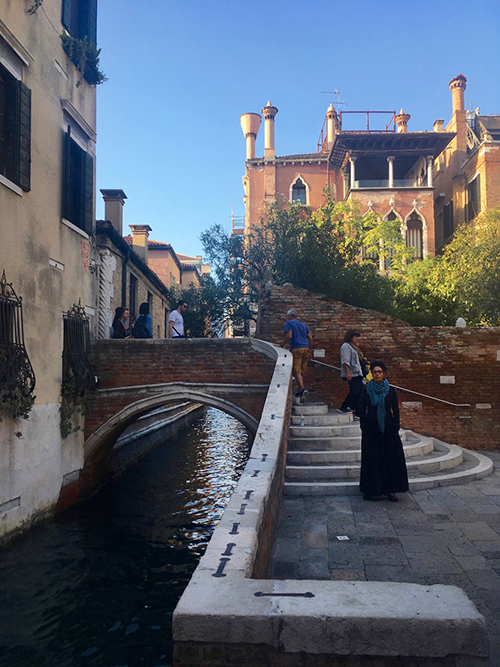 Ignore the tourists in shorts and t-shirts and appreciate that George Ferrandi is a good sport who played along by dressing perfectly to mimic a 19th-century Venetian woman from a 100-year old painting.
Was Buongiorno ever in Venice?
Unlikely, but I think I can explain the painting, which I bought in 2007 from an American dealer who didn't have any "provenance" on it.
This is typical, by the way, for paintings of this era, meaning: not very old, rather numerous, generally painted by artists who were not famous. Forget what you see on Antiques Roadshow about provenance being mandatory, and don't let the lack of provenance stop you from buying. You buy a 100-year-old genre painting as an interesting collectible, because it has meaning or appeal to you, not for its value. (Or so I tell myself now that I own more than a few.)
This painting was my first Buongiorno purchase, and I still remember two distinct thrills when I pulled it out of its shipping box and held it in my hands: 1. The simple realization that, unlike other art I own (photos and prints), an oil painting is a one-off, which was created by someone by hand: I am holding the only one. 2. That the artist, Donatus Buongiorno, my ancestor, held this very object in his hands at one time, just as I am doing now, 100 years later. Could there be a more tangible connection to one's own past?
I couldn't figure out much about the painting in 2007. I wondered: Was the scene real? Did the house exist?
Scenes of Venice are numerous, and locations are hard to identify without specific details in an image. Buongiorno's image is a little vague—blurry and inexpert, even. Knowing of many other paintings by him that are sharper and "better," technically and image-wise, the "softness" of this image made me suspect it might be one of his early, less accomplished paintings.
Even the style of the house—Venetian Gothic—was unhelpful for nailing the location, as it is a bit "generic" in Venice.
I figured my best bet was to identify the church in the background by its campanile (bell tower) and then figure out which canal lined up with that church on the angle depicted in the painting and see if there was a house with Venetian Gothic windows on that canal's right bank. Venice is a historic district that doesn't allow changes to the exteriors of buildings, so I knew the house would look the same today as in the past and that I had a decent shot at finding the location of the scene.
I spent a few hours Googling Venice churches and studying their campaniles for a six-sided top "cap" above three windows. I identified a few maybes, though none had a canal that lined up just right.
Then one day this painting came up for sale at Sotheby's. It's the same scene but much larger and more detailed, highly realistic.
Note to other would-be collectors: As you can tell, a lot of the research process is just logical reasoning, but there are tools to help (for example, online alerts), and it takes experience; I spend hours looking at thousands of paintings. I'm willing to help others. Write to me.
Big clue from Sotheby's description: The church is "The Frari" (full name: Santa Maria Gloriosa dei Frari). Back to Google Earth to make the yellow man walk around Venice and peer at the Frari's campanile from every available calle (canal-side street) within a half mile. Still nothing definitive.
When friends were going to Venice, I would ask if they were willing to do some reconnaissance for me. One very patient long-time friend and one sister took me up on the wild goose chase over the years—unsuccessfully. BIG shout out of thanks to Candy Korman and Cindy Carapellucci, who each wasted a few hours of their vacations schlepping around back alleys of Venice on my behalf and are, amazingly, still talking to me today.
I gave up.
Years later, I was Googling something else about Venice, and I stumbled upon a tourist's snapshot of the correct house. Pure dumb luck. And…different church for the campanile. It's Santo Stefano, not the Frari. Sotheby's got it wrong (and threw me off the trail, searching in the wrong part of Venice, for many years), but understandably: both campaniles are red brick with hexagonal caps above three windows, above a central pilaster. Here are the two. (Santo Stefano first, Frari second.) Understandable error, right?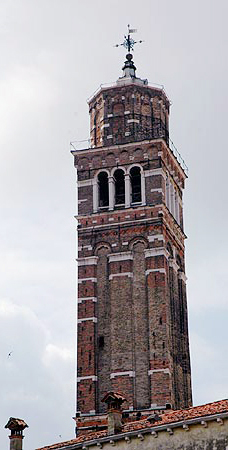 So who was Rubens Santoro, and what's his connection to Donatus Buongiorno?
Rubens Santoro (1859–1941) was the son of Italian sculptor Giovanni Battista Santoro (1809–1895)—who clearly thought he had sired a future maestro, as he named his son rather grandly after the famous 17th-century Flemish painter Peter Paul Rubens. Born six years apart, Donatus Buongiorno (1865–1935) and Rubens Santoro were contemporaries, but Santoro was clearly the superior talent, and had been so from a young age, according to biographical accounts. Both migrated from their southern Italian birth towns to Naples by the 1880s, and both attended the Royal Academy of Art in Naples.
My theory is that Santoro, being older, probably graduated before Buongiorno and may have taught at the Academy when Buongiorno attended (because Buongiorno taught there for a few years after he graduated.) Buongiorno probably copied Santoro's painting (the one that was later sold by Sotheby's) as a student project, as copying a master's work was a common method of academic instruction at that time.
I hope to confirm this theory when I visit the Accademia in Naples on next year's family trip to Naples and Solofra. (Who's in? Anybody? Anybody?)
Later, either in Naples or New York, Buongiorno probably sold the painting out of his "inventory." By 2007, it had made its way to a dealer in Seattle, Washington, who sold it to me.
Is anyone else planning travel to Italy this year or next? Do you dare tell me? Aren't you curious what interesting and exciting task I might have for you?

Thanks, again, Keil and George, for helping with my, admittedly obsessive, family history project.