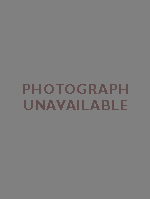 William McKinley
June 19th, 1896, dated in signature
Oil on canvas
6 x 4 ft., approximate
Whereabouts unknown
Elected to his first term of office on November 3, 1896, William McKinley was President of the United States from March 4, 1897, until September 14, 1901, when he was assassinated while attending the Pan-American Exposition in Buffalo, New York.
The painting is based on this photograph of McKinley taken in 1896 (which is probably a campaign photograph), though the eyes in the portrait look more like the eyes in this photograph.
In the artist's signature, the painting is dated June 19, 1896, the first day of McKinley's "front porch" campaign, following his nomination to the Republican ticket.
However, I am not certain the painting was made in 1896. I suspect Buongiorno was commissioned, perhaps by a political club or other group sympathetic to McKinley, to make the painting for exhibit in Buffalo during the Pan-American Exhibition after McKinley was killed.
Buongiorno claimed participation in the Exhibition in his art biographies, but the painting was not exhibited in an official building of the exhibition that I can determine. (Nor was any other painting by Buongiorno.) Records on the exhibition are extensive, hence most likely definitive. Perhaps it was exhibited in a political building or local Republican office in Buffalo and Buongiorno was stretching his resume a bit by claiming association with the Exhibition.
Tariffs
Buongiorno, who became a naturalized U.S. citizen in 1895, must have kept his politics to himself to acquire this commission, as I don't think he would have voted for McKinley.
Controlling business activities was a significant political issue in the Gilded Age, trust-busting late 1800s, and McKinley was in favor of using tariffs (taxes on imports) to shelter American industry from cheap imports.
Buongiorno was anti-tariff, at least on art, because he had a side business as an art importer. When Buongiorno traveled to Italy (which he did every few years), he bought other artists' paintings to import to the U.S. for resale from his studio in New York.
Buongiorno told family members that he brought in the maximum value permitted without having to pay a tariff ($300 for most of the years around 1900) and made enough profit on this activity to pay for his own steamship tickets.
In 1908, Buongiorno even signed a petition to congress, along with other artists, collectors and dealers, opposing tariffs on imported art. This is his statement:
Was this painting exhibited at the Pan-American Exposition of 1901 in Buffalo, New York?
Donatus Buongiorno's art biographies list him as being involved in the exhibition, but I have not been able to identify what he showed.
He did not have work accepted in the juried fine art show, nor did he have any paintings exhibited in the fine arts building.
This painting is large: 6 feet by 4 feet. Perhaps it was displayed in a political or memorial exhibit somewhere on the grounds.
If you know anything about the exhibition's political exhibits or have other ideas about this painting, I would love to hear from you. Send a private e-mail here, or post a comment below.